PUBLIC AUCTION
Saturday, September 13, 2008
9:00 AM
Located at the
Carroll County Fairgrounds
1 mile north of
Berryville at the junction of 21 & 221.
(Directions)
VIEW ONLINE IMAGE GALLERY OF ITEMS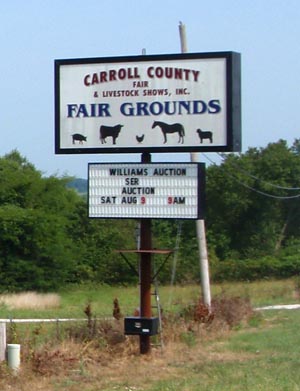 LARGE COLLECTION OF FIESTA WARE
Over 200 pieces - Cobalt blue Pyramid candlesticks (194243); salt & pepper shakers; coffee pot; teapot; pitchers: divided plate; egg cup; juice tumblers; nut dishes; creamers; rare small ladle; vase; serving bowls; napkin rings; oblong serving bowl; bouillon bowls; bread & buffer plates; salad plates; luncheon plates; dinner plates; dessert plates: platters; cups; mugs; saucers; serving bowls; soup-salad-cereal-fruit-sugar bowls; butter dish; flatware; creamers - (note) there are several colors
SILVER COPPER
Martini shaker; ice bucket; teapot; 6 goblets; skillet w/lid & stand; tray; 2 casserole holders; (copper) 3 pans w/lids; 3 skillets w/lids; cooker; measuring cups; candle holders; teapot; 2 reflector lamps; cookie cutters; jello molds; loaf pans
SINGER SEWING MACHINES VINTAGE AND ANTIQUE
221 Featherweight/1964; 221 Featherweight/1957; 221 Featherweight)1935; M27/1906; M12711913; M66/1946; 210/1951; 301/1951; all machines are from good to excellent condition.
COLLECTIONS - CRYSTAL, HARLEQUIN, SMOKE, MILK GLASS
Decanters; creamers; sugar bowl; ash trays; perfume jars; vases; bowl; glasses; shot glasses; water-brandy-whiskey-wine & short stem water glasses; (Harlequin); plates; cups; saucers; cereal bowls; sugar; bread & butter plates; (Smoke Glass) plates; cups; candle holder; lamp; Lords Supper plate; fruit bowl; tea-water-wine glasses; (Milk Glass) grape leaf pattern planer; vase; sugar; creamer; glasses; plates; cups; saucers; dinner plates; dessert plates
COLLECTIBLES - HOUSEHOLD - MISC
Sharp home theater LCD projector, Model#XV-H35UA; Sony DVD Video cassette recorder; special edition, 10th anniversary Holiday Barbie in original box; misc. Barbies and accessories; Amazing Ally computerized doll; wind-up 31 day wall dock; very old miniature pitcher collection and other ceramics; "Body by Jake" exercise machine; Pilates Performer exercise machine; DVD's; craft supplies; puzzles; small toys; wildlife tees and sweatshirts (many never worn); books; household items; knickknacks; large buffet; Cone china cabinet; large pictures; curio cabinet; bakers rack; overstuffed chairs (6); two computer desks w/chairs; lamps; 2 dehydrators; kiln; glass panels; 2 pedestal sinks; light fixtures; table saw; log splitter; 29 boxes of floor and cabinet tile; much more - too numerous to list.
NEWLY ADDED!
Fiesta dishes-219 pieces. (2) pyramid candlesticks-Cobalt blue- 1942-1943
1946-1947 round candlesticks-2-Cobalt blue-1-Sea mist
30 pieces of Harliquin dishes.
AUCTIONEER'S NOTE:
If you collect glass, this is a good opportunity to pick
up some good pieces for your collectionl
VIEW ONLINE IMAGE GALLERY OF ITEMS
Remember-the starting time is 9:00 a.m.
TERMS & CONDITIONS: Cash or approved check w/proper I.D.
We accept credit and/or debit cards (MasterCard, Visa & Discover)!
All announcements day of auction supersede all previous announcements.
We are not responsible for accidents or loss of items. Nothing can be removed until paid for.
Remember, we just might be your solution to your situation. Personal property, commercial, business, estates, farms and real estate of all kinds.

Randy Williams
Call for Real Estate Auction
245 CR 439 Berryville, AR 72616
www.williamsauctionservice.com
AALB# 1504
- - - - - - - - - - - - - - - - - -
For more information call Williams Auction Service
Cell (870-654-3561) or (870-423-6377)