PUBLIC AUCTION
Saturday, August 9, 2008
9:00 AM
Located at the
Carroll County Fairgrounds
1 mile north of
Berryville at the junction of 21 & 221.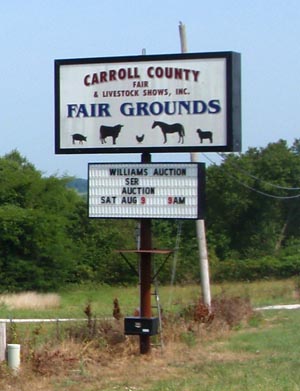 DOZER TRACTOR TRUCK TRAILER SHOP
D6C dozer; Ford BN tractor (good condition); 15 ft. side winder; brush bog; dump wagon; 1987 Dodge 1 ton flatbed (5,000 miles on overhaul); 16 ft. bumper trailer; 5 x 10 trailer; woods mower; blade; stock tank; steel post; woven wire; corral panels; air compressor; table saw; chicken house fan; step ladders; extension ladder; kerosene heater; ventless gas heater; plywood siding; Come-Along hedge trimmers; wood stove; submersible pump; small saddle; old rod & reels; wood levels; B-B gun; hood ornament; (NOTE: 2 new Gazebos) (R); miscellaneous lumber; lots of miscellaneous shop items
HOUSEHOLD - COLLECTIBLES
Daisy buffer churn, apple cookie jar; vases; Coca-Cola pictures; Japanese dishes; paper weights; crystal teacup set; jewelry; West German dishes; books; china hutch w/glass doors; G.E. side-by-side refrigerator
AUCTIONEER'S NOTE: We are selling a woodworking shop. Plus, we have 2 trailer loads of items coming from another shop. See you Saturday!!
Remember-the starting time is 9:00 a.m.
TERMS & CONDITIONS: Cash or approved check w/proper I.D.
We accept credit and/or debit cards (MasterCard, Visa & Discover)!

All announcements day of auction supersede all previous announcements.
We are not responsible for accidents or loss of items. Nothing can be removed until paid for.
Remember, we just might be your solution to your situation. Personal property, commercial, business, estates, farms and real estate of all kinds.

Randy Williams
Call for Real Estate Auction
245 CR 439 Berryville, AR 72616
www.williamsauctionservice.com
AALB# 1504
- - - - - - - - - - - - - - - - - -
For more information call Williams Auction Service
Cell (870-654-3561) or (870-423-6377)