THIS AUCTION HAS CONCLUDED
PUBLIC AUCTION
Saturday, October 4, 2008
10:00 AM
Located at the
Carroll County Fairgrounds
1 mile north of Berryville,
Arkansas, at the Jct. of Hwy. 21-221
(Directions)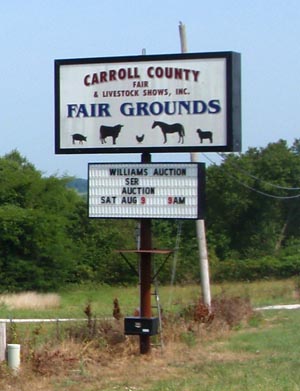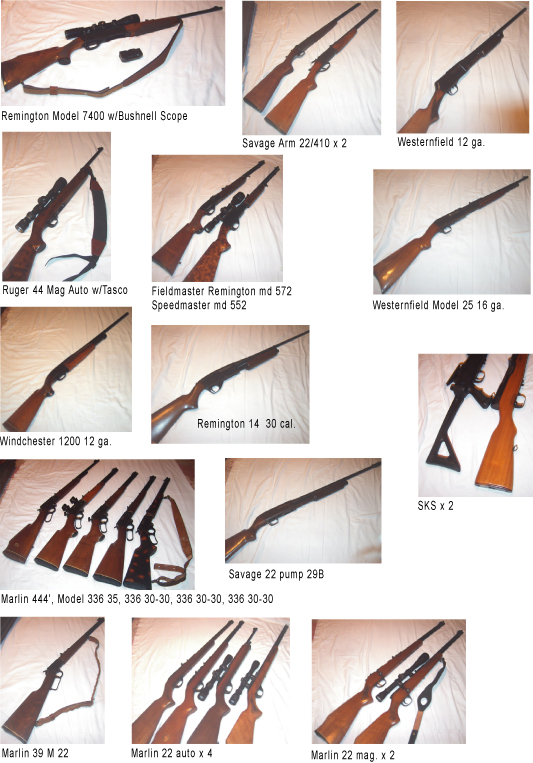 GUNS
22's; Marlins (M99 Ml; M50 w/scope; 110 M w/ scope; M6084; M39M; M738, M6022); Remingtons (M12A; M552 w. scope; 527 w/scope; 512); Savages (M120A Bolt Action; M29B; Savage 22 0/u 410); Hornet w/scope; Sovereign wiscope; Ruger 10-22 w/scope; Glenfleids (M60, M40); H&R M649; Mossburg M380 w/scope; Tate Squires Bingham M20 D w/scope; 183-22 mag. w/scope; H&R 221250 w/scope; HY Hunter M22S; 22 Pistols (Llama, Phoenix; H&R M.676, J.C. Higgins M88, Tanarmi Gardone MP22 Ruger meg. SHOTGUNS: 12 ga. lverJohnson; Brazil FiE, Brazil RE double barrel; Winchester M1200-M1300; Westemfield; Remington M870; 20 ga. Winchester M370; National Firearms; H&R M158; Remington M87; American Arms 10 ga.; Stevens M67-410; Mossburg 410; Westemfteld M. 25xNH 16 ga. RIFLES: Remington M14; Remington M7400 wiscope; Martin M336 lever action 35 cal.; Marlin M444; (2) Marlin M336 30-30 lever action; Marlin lever action 44 mag. M 1894; Marlin M30A5 30-30; Winchester M94; Winchester- Belgium 44 cal.; Marlin M.60 w/scope; Browning 3-06; SKS rile w/bayonet; SKS 7.62; Ruger 44 mag. w/scope; Charter Arms AR-7 Johnson Tanget MSSA; Chinese military bolt action; (2) Ruger Mark II; Ranger.38 special; lots of ammo .... several B-B guns and Pellet guns.
BLACK POWDER
Miroky 45 cal. Richardson black powder; 36 cal. Barnell black powder Derringer; H&R 32 cal.
KNIVES - CAMPING
Large lot of hunting & pocket knives; some handmade cross bows; (camping and hunting equipment new)
PICKUP
1998 ex cab 4 x 4 with 40,000 on motor
AUCTIONEER'S NOTE:
This is a private collection of guns. We are going from the list given to us.
There will be no preview until Saturday morning.
Remember-the starting time is 10:00 a.m.
TERMS & CONDITIONS: Cash or approved check w/proper I.D.
We accept credit and/or debit cards (MasterCard, Visa & Discover)!

All announcements day of auction supersede all previous announcements.
We are not responsible for accidents or loss of items. Nothing can be removed until paid for.
Remember, we just might be your solution to your situation. Personal property, commercial, business, estates, farms and real estate of all kinds.

Randy Williams
Call for Real Estate Auction
245 CR 439 Berryville, AR 72616
www.williamsauctionservice.com
AALB# 1504
- - - - - - - - - - - - - - - - - -
For more information call Williams Auction Service
Cell (870-654-3561) or (870-423-6377)