PUBLIC AUCTION
Saturday, March 28, 2009
10 AM
Held Inside at the Carroll County Fairgrounds
Vi Gibson Trust
BERRYVILLE ARKANSAS
Located 1 Mile North of Berryville, Arkansas on Hwy 21
Junction of Hwy 21 & Hwy 221
See Online Picture Gallery of Items
This will be another large auction to dispose of a fifty year plus accumulation for the Vi Gibson Trust. Vi never threw anything away and loved to go to auctions and flea markets. We will be disposing of most of the remainder of the collectible and antique items at this sale, so don't miss out!

Radios, Victrolas, & Collectible Household Items: RCA Victor K-80, Parmak Parker McCrory, Airline, & General Motors with fancy mahogany case floor model radios; 2 Crosleys, Farnsworth & Airline table model radios; Victrola cases, suitcase Victrolas, transistor radios, Singer featherweight sewing machine, Guardian Ware aluminum cookware, Texas ware (34 pieces new in box), decorated 1950's glassware, depression glass, some Wexford, 2 sets Melmac (pink & green), Deco chrome coffee set, very early dishwasher, vintage tins, etc.
Lots & Lots of Collectible Dolls, Pedal Car & Children's Items: Fire Chief pedal car, antique child's folding desk, child's piano, folk art horse with fancy child's real pony saddle, baby buggy, Davy Crockett hat, Cabbage Patch dolls in box, old Horsman composition dolls, kewpies, Tessie Talk, Marilyn & JFK, Secrets, Wispy Walker in box, Chatty Cathy, and other vintage dolls. Lots more items not listed.
Antique & Other Furniture: Two round oak antique tables with leaves (54" & 48"), 2 - 1950's chrome & formica tables (one drop leaf & one with six chairs), oak rocker, oak parlor table, unusual inlaid lamp table, carved walnut coffee table, Hollywood style bedroom set (purchased in 1943) chest, dresser & two ¾ beds, pair 1950's cedar wardrobes, two record cabinets, one with claw feet, nice mahogany cabinet Standard sewing machine, two other treadle sewing machines, organ stools, Martha Washington sewing stand, wardrobe/dresser combination, camel back trunk (redone), cedar chest and other furniture.

Primitives, Lamps, Vintage Clothing, Turquoise & Costume Jewelry: Two cream separators (floor & table top), antique Mystery hand operated clothes washer, double metal stand tubs, 10 gallon crock, granite wash tubs, spinning wheels, steer skull, horns, railroad lantern, wooden grain bin, Aladdin & other hanging lamps, floor lamps, stage coach lamp, WWII artillery shell & other vintage lamps, vintage clothes, hats, purses, cosmetics, several pieces of real turquoise jewelry, costume jewelry.

Other Items: Hammond M-100 Organ (works great), Singer Commercial Upholstery Sewing Machine (sews well), Hohner Electric Keyboard, Quickie V-12 battery wheelchair, cowboy boots, 60 cup dripolator, three good modern sewing machines (Nelcos & Singer), crocheted spreads, quilts, dollies, cookbooks, old workbasket magazines, and whatever else we find between now and the sale!
The Vi Gibson Trust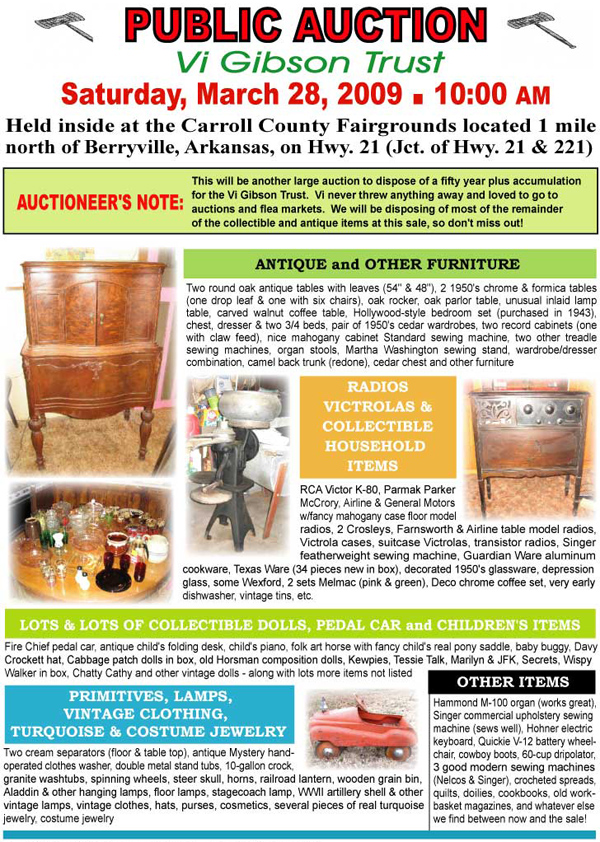 - - - - - - - - - - - - - - - - - - - - - -
Remember-the starting time is 10:00 a.m.
*TERMS & CONDITIONS: Cash or approved check w/proper I.D.
We accept credit and/or debit cards (MasterCard, Visa & Discover)!

All announcements day of auction supersede all previous announcements.
We are not responsible for accidents or loss of items. Nothing can be removed until paid for.
Remember, we just might be your solution to your situation. Personal property, commercial, business, estates, farms and real estate of all kinds.

Randy Williams
245 CR 439 Berryville, AR 72616
www.williamsauctionservice.com
AALB# 1504
- - - - - - - - - - - - - - - - - -
For more information call Williams Auction Service
Cell (870-654-3561) or (870-423-6377)