PUBLIC AUCTION
Tuesday, March 31, 2009
10 AM
Located at 212 Oak Ridge,
Southern Heights Subdivision.
BERRYVILLE ARKANSAS
Directions: From Berryville take Highway 21 South, turn onto
Magnolia Avenue to Rebecca Street, then onto Oak Ridge.
If you are looking for good, clean household items and
furniture, you don't want to miss this sale,
as all items have been well cared for.
OWNER: MATTIE BROWN ESTATE / BOBBY THURMAN TRUSTEE
3 carved African masks, brass swan, 2 carved wooden spoons, large cloth wall hanging, iron guardian angel, glass prism, a 5x7 Indian art pictures, matching base and covered dish, Indian head art, green art bird, 2 large black & white birds, brass pot, large 3-Peal brass lamp, boy & girl figurines, 2 Italian goat horn vases (Malta Hede design). Evans Raku ceramic vase, 3-legged orange glass dish, Toyo covered dish. 2 glass blue birds on heart, Winfred Cole brass and porcelain flowers, large 3-legged brass Mexican bowl, ceramic goose, Michael Krapek Raku pottery pot, 58' ceramic waterfall, lame pottery vase, 2-piece white ceramic Obelisks, southwest pottery bowl. Rich's brand mink stole and mink neck wrap, assortment of costume jewelry
Comforter, pillows, bedding, blankets, shag rugs, variety of baskets, electric blankets, assorted linens, bath towels, hand towels, throws, hot roller set, vases, wooden jewelry box, candlesticks and stands, large green & burgundy bowl and vase, large floral an arrangement, Corningware, kitchen ware, 4-piece ceramic canister set, hand mixer, pots & pans, dishes, flatware, 12-piece place setting (Lenox), Krupps 12-cup coffee maker, Oster citrus juicer, Cuisinart food processor, Pyrex mixing bowls, toaster, vacuum cleaners
FURNITURE
Black & glass china cabinet, oval mirror, brass & mirror end tables, mirrored corner stand, acrylic footstool & bench, hall bookshelf. 3 end tables and sofa table (pine w/black iron stands), lamps, white ottoman, blue & white love seat, 2 sitting stools, L-shaped sofa with pillows, acrylic end table, square glass coffee table, overstuffed chair, 3-legged brass floor lamp, 12-candle candleabra, green glass table lamp, glass sofa tables, magazine rack, large brass & chrome mirror, glass dining table w16 chairs, 455(41' mirror and flower picture, glass round-top dining table w/4 chairs, black desk and chair, large white wither trunk, white plastic lawn Chairs,
MISC.
Binoculars (10x40), birdhouses, bird feeders, small easel, 2-drawer file cabinet, Christmas Misc decorations, various books, bird cage, sleeping bags, 200mm Vivitar photo lens, shower seat, walker, portable toilet, wind chimes, box of tools, birdbath, 8 large clay flowerpots, weed eater, gas cans, long-handled tools, assortment of clothing, large lot of misc. not listed.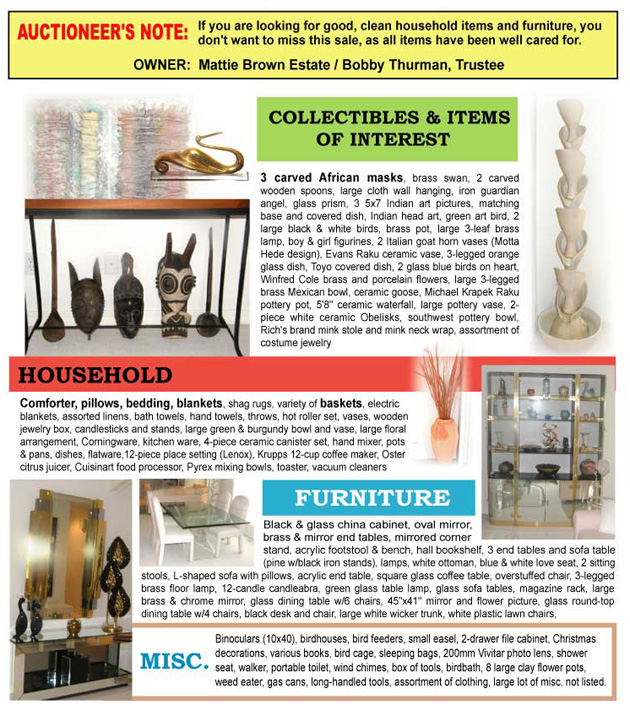 - - - - - - - - - - - - - - - - - - - - - -
Remember-the starting time is 10:00 a.m.
*TERMS & CONDITIONS: Cash or approved check w/proper I.D.
We accept credit and/or debit cards (MasterCard, Visa & Discover)!

All announcements day of auction supersede all previous announcements.
We are not responsible for accidents or loss of items. Nothing can be removed until paid for.
Remember, we just might be your solution to your situation. Personal property, commercial, business, estates, farms and real estate of all kinds.

Randy Williams
245 CR 439 Berryville, AR 72616
www.williamsauctionservice.com
AALB# 1504
- - - - - - - - - - - - - - - - - -
For more information call Williams Auction Service
Cell (870-654-3561) or (870-423-6377)